Teaching program
Since the 2009/2010 academic year, the Department has run three different bachelor degree courses, two of which are in Business and Economics and one in Economics. For the first three semesters the students follow the same courses ensuring the students acquire an extensive basis which will eventually allow them to make more informed choices on their future path and helping them choose the one most suited to their abilities and aspirations.
As far as the masters degrees are concerned, the Department has encouraged an intense programme of internationalisation offering two masters degree courses entirely in English: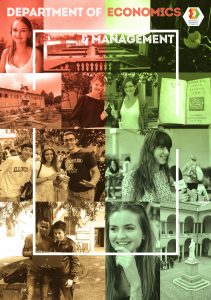 International Business and Entrepreneurship (MIBE), e Economics, Finance and International Integration (MEFI). The MIBE is for business students whose ambition is for managerial work in supranational companies in areas of innovation. The MEFI course aim is to train experts in applied industrial economics, finance and regulation of the international markets who are to work in multinational companies, research, and for regulatory bodies. With reference to the more established masters courses in Italian, on the other hand, the existing courses on offer are two courses in Business and Economics: Economics and Company Management (MEGI) and Economics and Company Law (MELI).
The degree courses described above allow for joint majors in accordance with other universities in other countries by following the first year in Pavia and then the second year in one of the partner universities abroad. At the present time the partner universities are in France, Spain, Germany, Switzerland and Finland but also Greece and Russia are well on their way to entering the agreement. A further opportunity is offered by the EMBS course where students can do a European Business Masters; the universities involved are a consortium of which Pavia is the only Italian partner. In addition to complete a course of Economics at Pavia University, we offer post-graduate courses, both masters and PhD programmes.
Masters
PhD